New research from Radiocentre, New Ways of Working, New Ways of Connecting, has shown that the working from home audience are doing exactly that. Of this large audience, 90% of WFH listeners play radio in the background whilst working. This is great news for advertisers, and here's why…
The new research shows that this audience is receptive to advertising, with over half of WFH listeners saying they search for a brand online after hearing it on the radio. Additionally this WFH audience is made up of young to middle aged professionals with an average household income that is 45% greater than the national average. Due to their lack of commute and a reduction in other costs, two thirds (63%) of people working from home have saved money since the pandemic began.
The study also reveals that once lockdown lets up, the WFH audience have an increased motivation to spend money on travel (both domestic and international) and activities in the entertainment and leisure sector such as going to restaurants and bars, outdoor and indoor entertainment, gambling, and beauty treatments.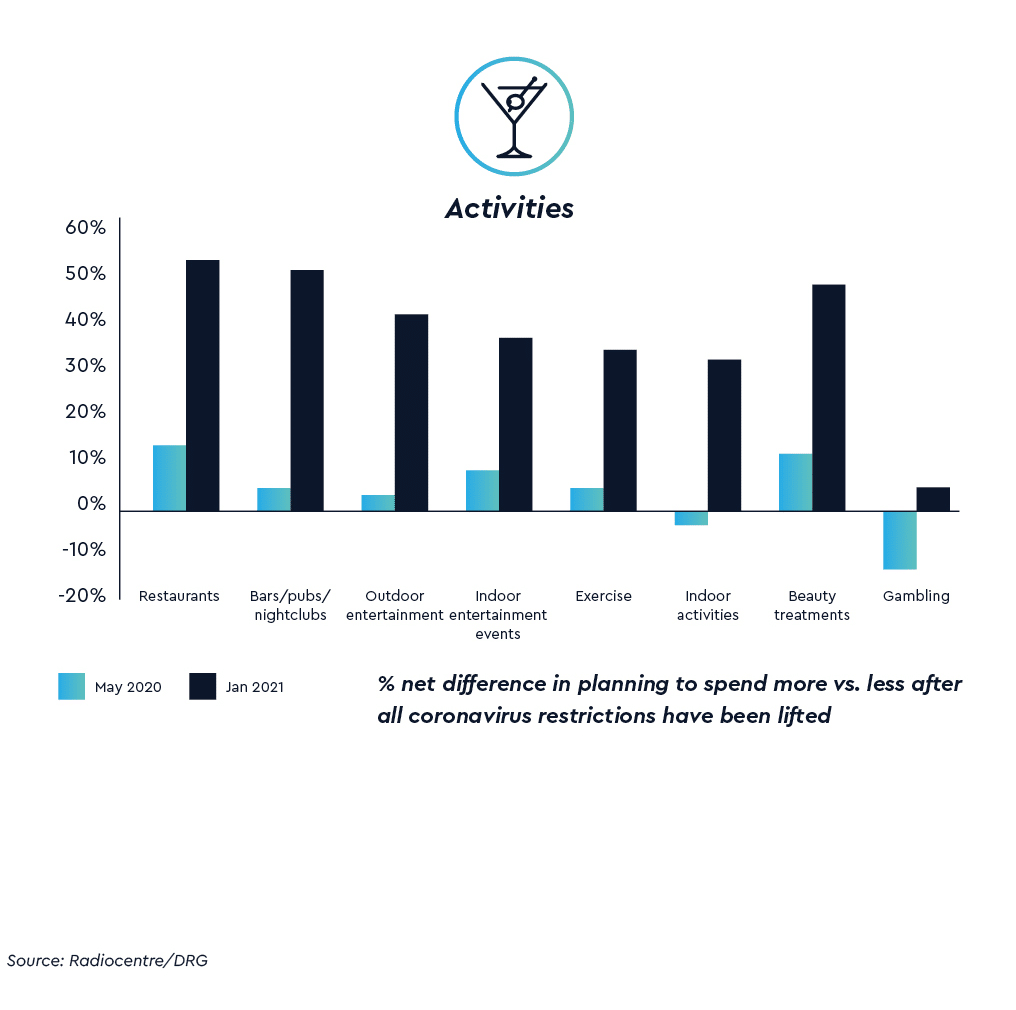 7 Great Reasons For You To Make Radio Your Medium Of Choice
1. Radio offers efficient targeting
Radio targets audiences efficiently because different stations attract different listeners – Classic Rock listeners are worlds apart from Classic FM listeners etc. This allows advertisers to talk selectively to the groups they are most interested in. Added to this is radio's regional/local structure, which means that brands can focus their activity very effectively onto key market areas.
2. Radio reaches people at relevant times and places
Most radio listeners are engaged in another activity, and this means that advertisers can reach listeners at key "touch points" – when they are on the school run, surfing the internet, before going out on Friday nights, and so on. And now that radio can be heard on mobiles, on the internet etc, these touch points are becoming even more widespread. Research shows that advertising which is relevant to a listener's other activity is over 60% more likely to be recalled.
3. Radio reaches out in an ad avoidance world
Research shows that radio, together with cinema, has the lowest level of advertising avoidance – people rarely switch stations, and are available to listen to any message that is relevant, creative, intriguing etc. This is a great opportunity for advertisers who want to reach out to new customers, or to tell existing customers something they didn't know.
4. Radio has a "multiplier effect" on other media
Radio's way of multiplying the effect of other media is a feature of multi-media research studies. The original Millward Brown Awareness Multiplier Study showed how radio multiplies the effect of TV,  and since then the finding has been re-echoed in the joint OAA/RAB study into radio & outdoor, and also the US RAEL study into radio vs print. Radio's multiplier effect seems to originate in the fact that it is an audio-only medium, and therefore stimulates a different part of the brain.
5. Radio creates a large "share of mind" for a brand
In the same that radio stations create chart music success, they create a sense of ubiquity for a brand. This is for two main reasons – firstly, because radio ads are on frequently, and secondly because listeners tend to spend so long listening (on average 14 hours per week). A brand which is big in radio can create a disproportionately large share of mind for itself.
6. Radio drives response, especially online
Radio has always been a strong "call-to-action" medium, and this is even more true in a world where consumers access brands via the internet. Recent IAB/RAB joint research revealed that at any given time a fifth of internet surfers are listening to radio – so they are a click away from interacting with a brand.
7. Radio is "a friend"
Listeners use radio for emotional reasons – to keep their spirits up, to stop themselves from feeling bored in a car or isolated while doing daily chores. This leads to them seeing radio as a kind of friend, and this is a valuable context for an advertiser to appear in. It is even more powerful when advertising extends through into branded content – sponsorships & promotions. When a radio station presenter talks about "our friends at Company X", the listener is hearing about a friend of a friend – this has a strong effect on bringing a brand closer.
7 Amazing Radio Advertising Facts
1 Radio Isn't Dead or Dying. It's Booming
If you haven't already, you'll be sure to hear radio's obituary plenty of times in the next couple of years. In fact, marketers and advertisers around the world have been prophesying the end of radio as a competitive ad medium.
These claims are totally unfounded.
Q1 2018, the twilight of digital advertising days, radio is announced by the WARC to be the fastest growing ad medium in terms of ad spend. That's beating TV, internet advertising (display and social) and all others to the crown.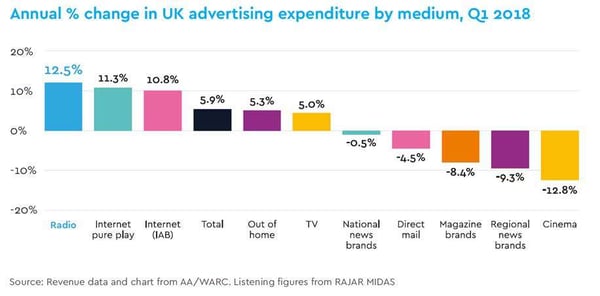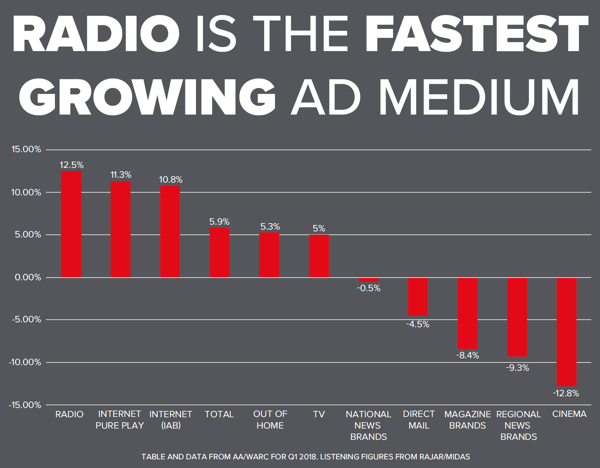 It would appear that advertisers are finally starting to see the true effectiveness of radio as a platform to develop meaningful relationships with a captive listenership and have started to reallocate their advertising budget accordingly.
2 We're Heading Towards an Audio Future
Ask Alexa to play your favourite radio station.
Ask her to wake you up with it.
Voice-enabled tech is, much like radio, booming. At any point in the day, you can ask your personal assistant anything you please. In your bedroom, kitchen, car and your palm.
According to a recent study conducted by ABI Research, 120m voice-enabled devices are set to be shipped annually by 2021. It's a tech that has been welcomed with open arms as it subscribes to a more solution-centric approach to messaging and advertising.
Slowly, we're moving toward a voice-activated future that revolves around audio, sound queues and sonic logos. Think about that for a second. How is that going to affect the way we search for items. We don't search for brands, we search for solutions. Coffee near me. Oil change near me. Add butter to my basket.
And with the news that by 2020, 30% of searches will be done without a screen and 50% of searches will be done with voice, the brands that don't make a sound won't be found. Brands should be scrambling to get their audio profiles sorted as quickly as possible so they can be on on the crest of the wave of a very competitive market.
The easiest way to do that? Start advertising on radio. Any agency worth their salt won't just be setting you up with a radio advert, they'll be building your audio brand for the audio future.
3 Radio Connects You With Hard To Reach Customers
Studies have proven that our minds naturally look for consistency in thoughts. A whole field, named Congruity Study, has been devoted to the study of this phenomenon. 
According to IPA Touchpoints; 92% of listening is done while listeners are engaged in another activity. Of all media out there, audio and radio are the only mediums that are classed as 'out of focus'. This means that brands have a unique opportunity to connect with your target customers when they are subconsciously looking to align their thoughts with what they're currently engaged with. 
And they'd be right to do that. According to research conducted by Differentology, brands like McDonalds, Heinz and Deliveroo saw a sales uplift of 51% when they focused on targeted their customers when they were engaged in relevant activity.
When you're stuck in traffic and a bus goes past in the bus lane that's totally free, your thinking about how much easier it would be if you were on that bus. That's when a radio ad for a local bus company plays. 
Ebiquity's Re-evaluating Media report, commissioned by Radiocentre, studied the worth of different Media. It surveyed over 100 top advertising decision makers and evidence gathered from the latest studies in the UK.
Radio also delivers touchpoints that other advertising mediums cannot deliver, like in-work advertisements.
An employer is more likely to switch on a radio at work than a TV. Likewise, in some organisations, social media is banned on desktop web browsers and internal IP addresses. If you want to connect with someone while they're at work, radio is your best option.
4 Radio Integrates Perfectly With Other Advertising Mediums 
We were lucky enough to be able to attend the first ever Radio Audio Week a few months ago.
Ironically, it was eBay, the online marketplace, that spoke the most truth about offline advertising.
Gareth Jones, Marketing Manager at eBay, wanted to change the way people saw eBay. He thought eBay had evolved from the second-hand marketplace it started out as and moved more towards a reputable place to buy and sell bespoke, collector and new goods.
But how was he going to wipe out over 10 years of brand building?
A combination of radio and TV.
"A couple of years ago, 90% of what we spent in the UK would have been digital, transactional, direct response type of investment," Jones explained.
But that spend wasn't cultivating the salience they needed to start changing people's view on eBay.
"Intuitively, we knew we had to invest in traditional channels to build brand salience and get people thinking differently about eBay."
This came from consistent, targeted ads that worked in conjunction with TV campaigns. Both featuring the same music, sonic logo and voices. Slowly, over a period of 24 months, opinion started to shift and a uplift in new item sales followed.
This is a great example of how a cross-channel, integrated campaign has been used to expand associations, not just in terms of reach but also in terms of penetration.
And the evidence doesn't just stop there.
A recent analysis of radio-campaign returns from Ebiquity's ROI database reveals that creative synergies between TV and radio ads give a huge boost to return on investment. A campaign using matched scripts and audio across TV and radio ads boosted ROI by 500% compared with ads that had no match between treatments. This attests to one of radio's great advantages for advertisers – it reinforces messages from other media in a close and personal relationship with the listener.
Advice From Radiocentre:
Further evidence of the power of integration comes from 10 years of Radiogauge research, which assesses the creative effectiveness of radio campaigns against the Five 'I's: involvement, identity, impression, information and integration. Data aggregated from more than 7000 campaigns measured demonstrates that the most effective radio campaigns have consistency at their heart: of creative idea, audio branding, voiceover and music. Radiogauge continues to be used to analyse campaigns that use integrated thinking to forge creative synergies between TV and radio ads. A recent example of an ad that scored very highly was The AA's "Singing baby" campaign, which used the Ike and Tina Turner song Proud Mary as an identifier, helping it to stand out both on TV and radio.
– Lucy Barrett, Client Director, Radiocentre (Read the full article here.)
5 Listeners build strong affinity with radio stations and your brand. 
Radio has universal appeal with a broad demographic reach and is listened to in a wide variety of different locations, both at home/work and on-the-go. Listeners have a strong brand affinity and a high emotional attachment with their chosen stations, which creates a positive impact on brands. Low entry costs for radio (relative to other media) help to increase both cost-efficiency and cost-effectiveness against brand metrics, footfall, and sales.
According to independent research agency Ebiquity;
"Radio delivers the lowest media cost per thousand by a distance"
Mix this with the low cost of production and you've got a recipe for cost-effective advertising.
Radiocentre, the UK radio industry trade body, argues that broadcast radio maintains a valued role in people's listening repertoire. The research found that streamed audio affects people's personal music listening, not their radio listening.
There isn't currently a global standard for radio measurement which can create issues for cross-country comparability and a multinational sell. Radio measurement data additionally lacks the speed of other competitive media such as TV and online.
6 Consistency Without The Cost
8 million adults (15+) tuned in to their selected radio stations each week in the second Quarter of 2018. The total average number of weekly hours listened to radio for this Quarter is 1.016 Billion.
On average we were listening to 20 hours of live radio every week.
Those are impressive figures, but that surely means the prices for airtime must be pretty big.
Wrong. Radio airtime is around a third of the cost of TV, helping to drive cost efficiencies.
Likewise, radio is a highly effective medium with an impressive ROI getting an average of 60p back on top of every £1 spent. (That figure changing depending on the industry – tripling to just short of £3 if you're in retail)
The universal appeal of radio means that it's well positioned to deliver mass-audiences, so can help to cost-effectively extend reach. Radio also plays a vital role in brand-building according to Radiocentre's research Radio: The Brand Multiplier.
The research demonstrates that using distinctive audio assets helps to build mental availability that can build brand likeability and distinctiveness. Creating multiple radio executions is also beneficial to associate the brand with more touchpoints in your customer's lives.
7 Contextual Conversations are Happening Right Now
Food delivery app Deliveroo implemented a programmatic dynamic digital audio campaign in London in 2017. 40,000 different versions of the ad could be created based on time of day, day of the week, listener location and music being listened to. The aim was to extend usage beyond the peak times of weekday evenings. The campaign resulted in a +52% uplift in brand recall among millennials and a +49% increase in brand engagement.
Frequency of Ads
Radio commercials need to be played regularly before they begin to sink in with the listener. An ad that plays just a few times a week is not going to be as effective as one that plays a few times a day every day. There is a saying in the advertising world that "What you say x How you say it x How many times you say it" Generally speaking, radio's ability to target an audience and offer repetition makes it a very effective advertising medium. In fact, some of the most effective campaigns in business history have been "radio-only" ad campaigns.
Commercial stations programme your ads according to their statistics on who is listening and when. Industry advice says you want to be sure that your target audience has the opportunity to hear your ad, a minimum of three times each week you're on air as this builds consumer trust in your products or services. Plan to advertise for a minimum of three months, ideally longer. Remember that radio works on repetition over time.
Advertising Costs
The first thing you're going to want to know is whether you can afford radio advertising. A short rule of thumb is, If you can afford print advertising you should be talking to your local radio stations as well. The cost of both elements of your radio advertising – creative and airtime, is largely dictated by the number of listeners. Bigger stations cost more.
There are two costs you'll incur when you advertise on the radio. The first is airtime–the time unit(s) your commercials are on air, typically broken down into 30-second or 60-second segments (or spots), depending on the station. The other cost is the production cost, or the price for producing the commercial. Some stations will include production as an added-value option and incentive to advertise on their station. But be sure to consider your options before you commit to in-house production.
Usually, the production teams at the station are fine as long as the voice-over talent and the producer have a track record of working successfully with small businesses. Most do, considering that small companies are the local stations' most reliable clients. If you decide to get your spots produced "outside," be aware that prices vary significantly between production houses and ad agencies. However, consider the return on investment. It may be worth a few hundred pounds to produce a top-notch spot that generates a response instead of an in-house spot package deal that does nothing.
Finally–going back to airtime costs–radio is a medium that relies on repetition. You'll need to spend a certain amount before you begin to see any worthwhile results. You can expect to spend from as little as £50 per week with Chesterfield Radio. Spending any less on your campaign is a waste of money; you simply won't be able to get the repetition required to generate a result.
Creative Costs
A simple advertisement for a small station will usually cost £50-£100. National stations can cost up to ten times that. The price usually includes: Script writing, Audio Production, Actors to voice the ads, Music (if used) Sound effects (if used)
Good writers and producers make a huge difference to your campaign. Don't be tempted to use an unproven writer or producer to get cheaper creative. Stations can and do refuse to broadcast audio that breaches the complex radio advertising rules or that is of too poor quality and Chesterfield Radio are no different. Besides, this is the message you're paying so much in airtime costs to be heard – make it the best it can be!
As with print once a script is approved for production, changes will incur extra costs. However you can usually re-licence your ad for additional stations or a longer time for a proportion of the original fee.
Airtime Costs
Each station has a limited number of minutes a day to sell for advertising. Unlike print advertising where you can add extra advertising pages, on radio when the available minutes are sold there are no more.  It's generally best to plan in advance.
Aim to spend at least 20% of your budget on the creative – for example…
A £200 campaign on a small station over four weeks will probably run with one piece of creative which might cost you £50.
A £2'400 campaign over a year will likely need a few different advertisements. At this level of investment, a jingle or audio identifier (music) would be useful so listeners start to recognise your ads as soon as they hear them but obviously this comes at an extra cost.
Just because it's longer, doesn't mean an advertisement will cost more to make. A single voice 20 second ad will cost the same to make as the same voice on a 30 second or 40 second advertisement. The airtime will cost more however.
Radio is possibly one of the most cost-effective methods of advertising when you compare cost per thousand.
And remember – it's better to get a sensible repetition on a smaller audience than a huge audience not remembering your ad at all. You might therefore think: "Hang on, this looks like a nightmare to work out". It's not, since any radio station worth their salt will work this all out to your budget – giving you an estimated repetition figure, called "OTH" (opportunities to hear).
Commercial Production
Unlike television commercials, production is more simple for a radio commercial. You need a script and voice talent. However, that doesn't mean you should just slap something together. Your copy isn't relying on any visuals so it's vital you capture the listener's attention from the start. The copy needs to be crystal clear and not muddied by trying to be cutesy in your pitch. Voice talent can be as simple to find as calling the radio station. Most stations have a complete list of voice talent in your area. You send the script, they voice it. Remember, frequency is the key so make sure your ad hits the mark and will get the consumer's attention the first time. Research shows it takes a few times before the consumer actually gets what your company is all about. It's vital your ad stands out and conveys your message repeatedly.